Lots of fun garage pop, sing along psych, stomping and clapping and other rock and roll goodies to be heard this week.
Listen Up!: Where the cool, the classic, the corny and even the cringe-worthy collide.

Streaming live from 2-4pm EST.
Follow the Listen Up! Blog and/or "like" the show on Facebook . Both serve as an addendum and a means to interact with the program.
Read more...
(Photo by Stanley Kubrick / Alteration by Reade)
---
Read more...
Repeat Show today... Brother D. N Sister A. talks to Gospel Legend Cece Winans, and YouTube Sensation and Comedian Ms. Shirleen!!!! And we're always spinning the VERY BEST GOSPEL MusiC!!!!!
SUPPORT OUR GUEST: Purchase CeCe's New CD by clicking here: CECE WINANS NEW CD Book Ms. Shirleen by clicking here: MS.SHIRLEE N Purchase Christopher Signil Books by clicking here: Christophersignil.com
Tune in to The (Not So) Hidden Agenda on Saturday (3/4) from 4-5pm to meet Stephanie's next guest, local musician and music producer, Kyeen. Kyeen will tell us about his work in the music industry in Philadelphia, as both a musician and a music producer. We'll also hear the story of Kyeen's journey into music.
Listen in to discover the story behind art!
Did you miss the show? Listen to it here: The (Not So) Hidden Agenda-March 4, 2017-with musician/music producer Kyeen
Fossil Fuels and Your Health: Physicians for Social Responsibility Report
Switching to renewable energy can do many wonderful things for our lives. One of the most beneficial is saving ourselves from the truly alarming impacts of fossil fuels on infant mortality and the myriad health impacts through out our lives. Listen to Kay Wood's interview with Barbara Gottlieb of Physicians for Social Responsibility on how fossil fuel pollution is causing huge numbers of people right now right here in Pennsylvania to suffer severe health consequences and what can be done to change to a brighter healthier future. Also on this Planet Philadelphia – Pennsylvanians react to Senator Casey's and Senator Toomey's votes on Scott Pruit as the new head of the EPA.
www.planetphila.com | http://www.gtownradio.com| facebook | @planetphila | @gtownradio

Tune in this evening to Stepping Into Tomorrow, as host Gabriel Bryant speaks with author, Dr. Kelli Sparrow Mickens, author of the just released book "Philadelphia Freedom Schools." Dr. Mickens, a servant leader in community based and school based education since the 1990's, will talk about this ground breaking piece of literature, which is equal parts history and blueprint about the historic and contemporary manifestation of Freedom Schools in Philadelphia. Having served in several capacities in Philadelphia Freedom Schools, this book must be added to anyone's home library interested in the fusion of education, culture and liberation for our young people!
Good eve. Welcome to Skywave. tonite we have 3 scripts. The 1st is a classic from the X Minus 1 sci fi series. 1st broadcast 1955, "Cold Equations" considers how as erum needs to be transported on Emergency Dispatch Ship Stardust to a space station where an exploration party has been exposed to a fatal fever. Will the stowaway that's discovered on the EDS affect the serum getting thru? Stay tuned for the following hilarity from the Marx Bros series Flywheel, Shyster, and Flywheel. Originally aired 1932, in Episode 4 a hi society dame hires lawyer Flywheel(Groucho) to act as a detective to guard the gifts for her daughter's wedding. Why him? Who knows? Episode 7 concerns another society lady who mistakes Flywheel for a physician. Again why?, but we all know Groucho is the antidote for any misfortune. And here to cure whatever's ailing you is our team of chuckle doctors - Kathy Harmer Md, Maury Harris DDS, Stephen Medvidick OBGYN, along with Jim Harris LSD, and your host Andy Pettit SOS. Let's listen!

Listen Up! is in replay mode this week, Enjoy a program originally aired in July of 2016.



Musique Pop Française



Nothing but French pop from the sixties. Tune in for the French twist on rock, garage, soul, freakbeat, psychedelia and more. Hear originals and even covers of UK and US hits.

More info on that program can be found here.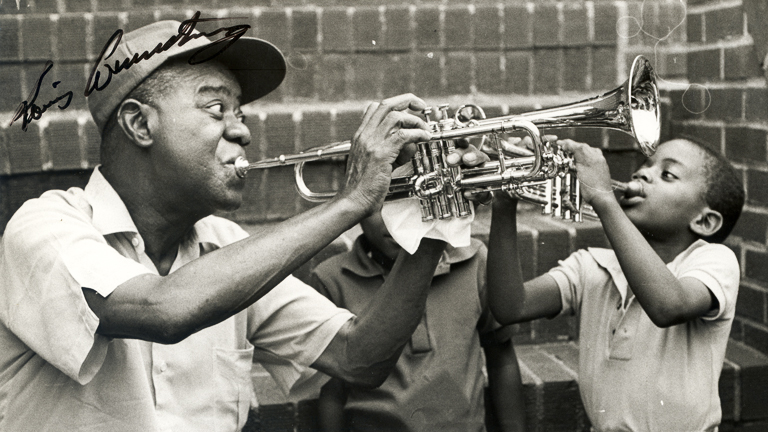 In a New Orleans groove tonight . Jump in for all the Big Easy funk, soul, jazz, brass band, creole music you can handle.

Read more...
Cece Winans talks with Brother D. N Sister A. about her first CD in over 8 years titled: LET THEM FALL IN LOVE!!!!! Also, Minister Author Activist Christopher Signil will be bringing us the latest in political New. This show will be PACKED ...with two other Mystery Guest thats gonna make you laugh, and edify you in the world of Entrepreneurship!!!! All this... and the BEST GOSPEL MUSIC!!!! SAT 25TH @ 10AM. Purchase CeCe's New CD by clicking here: CECE WINANS NEW CD Purchase Christopher Signil Books by clicking here: Christophersignil.com
<< Start
< Prev
1
2
3
4
5
6
7
8
9
10
Next >
End >>
Results 71 - 80 of 1207