Wednesday Morning Feed!
What A Development Wednesday!
With Developer Guy, Ken Weinstein!
What Will It Be?
Who Will Live There?

Will Feldman Use The "G" Word?
Dunno, Knows, and Yes.
M-Feed Seeks, Finds, Goes Home.
9-10:30 AM Eastern Mon-Fri

www.gtownradio.com
Good eve. Welcome to Skywave. Tonite we have 2 dramas. We'll begin with Russian playwright Leonid Andreyev's "Call of the Revolution", a near perfectly timed piece to celebrate the 100 year anniversary. We continue with the 1941 script titled "Home". In this case, a soldier who's face has been badly damaged by a strafe bombing must confront the ordeal of living with a new face. Tonight's guests are 1st timer Nyiema Lunsford along with Gary Mitchell and myself, your host, Andy Pettit.


This week, Listen Up! pays tribute to Grant Hart who passed away last week. We will hear some of his work with Hüsker Dü as well as his solo and Nova Mob recordings.
Streaming live from 2-4pm EST

Follow the Listen Up! Blog and/or "like" the show on Facebook . Both serve as an addendum and a means to interact with the program.
(Artwork by Piotr Siedlecki)

• Dr. John Goodenough, inventor of the lithium-ion battery (used in all our smart phones, many electronic home devices, and some electric cars), will discuss his recent announcement of the potential for the first all solid-state battery. This research is so revolutionary that Newsweek described it as having the potential to "save the planet".



• Michelle Kondo of the U.S. Forest Service on the new collaboration between the Schuylkill Center, Children's Hospital of Philadelphia, Parks and Recreation, and the USFS that will connect primary care pediatric health and wellness with nature.

• Cyane Gresham, professional gardener, on our yards and gardens in September.

• Maya Van Rossum, the Delaware River Keeper, comments on DRBC fracking regulations.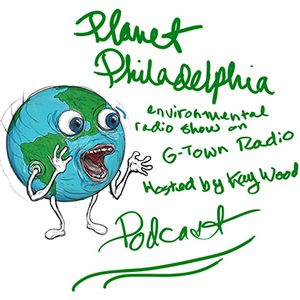 Listen to the podcast:
https://www.mixcloud.com/PlanetPhiladelphia/2nd-anniversary-planet-philadelphia-gtown-radio-91517/

This Friday, Sept 15th, G-town Radio will be participating in Park(ing) Day and will be transforming a parking space right behind our studios on Armat Street with an installation by Joli Reichel. The event celebrates public space – a space for generosity, cultural expression, socializing and play and so we want you to stop by and visit us. We will be broadcasting live from the spot with Morning Feed from 9-10:30 and then we mix up our music programming til 4pm with various guest interviews and performances and all things culturally, creative, civic and community minded, Stop by and/or listen as we celebrate Germantown in our temporary park/studio.



Indulge in the Prog-Rock and assorted related sounds (better known as music my (and quite possibly your) high school photography teacher played for the class") this Wednesday on Listen Up!

Listen Up!: Where the cool, the classic, the corny and even the cringe-worthy collide.


Streaming live from 2-4pm EST


Follow the Listen Up! Blog and/or "like" the show on Facebook . Both serve as an addendum and a means to interact with the program.



Read more...
Good eve. Welcome to Skywave. We'll start with an episode from the Columbia Workshop. Titled, "Let Me Tell You About My Operation", this 1942 script concerns an injured man whose pain only increases when admitted to the hospital. We continue with a 10 minute play by Bruce Kane. Titled "Mirror, Mirror", it seems there is trouble brewing between an evil stepmother and her stepdaughter. Sound familiar? Our guests are Sharon Sigal, Kathy Harmer, Maury Harris and myself, Andy Pettit.
Wednesday Morning Feed!
From Down Under To The Head Wednesday!
Feldman Met Some Australian Teachers Yesterday,
So He Invited Them On The Show!
Karen Smith Always Has An Invitation.

M-Feed's Doors, And Heart, Are Always Open.
9-10:30 AM Eastern Mon-Fri
<< Start
< Prev
1
2
3
4
5
6
7
8
9
10
Next >
End >>
Results 1 - 10 of 1304